Meet Dr. Carter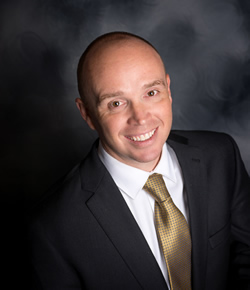 Dr. Carter is a general dentist that enjoys all aspects of dentistry. He is particularly interested in family and cosmetic dentistry including veneers teeth whitening. "Seeing my patients smile without having to cover up their teeth is one of the best compliments I can receive as a dentist."
Dr. Carter worked with the elderly and disabled as a Certified Nursing Assistant while in high school and college. At age 19, he put his college on hold to serve a two-year Christian mission to the Philippines, where he became fluent in two local dialects. After receiving a Bachelors degree in accounting from Utah State University, he attended dental school at the University of Maryland in Baltimore. During his fourth year of dental school, Dr. Carter applied for and was accepted to participate in a year-long oral surgery clerkship. He spent three days each week working closely with oral surgeons to help develop and refine his medial knowledge and surgical techniques. Following graduation, Dr. Carter worked in various dental practices in Winder, Duluth, and Monroe, GA. These experiences helped Dr. Carter to develop a patient oriented, friendly method of treatment delivery. In March 2008, Dr. Carter accompanied Operation Smile to Hanoi, Vietnam, on a dental mission to provide basic care to impoverished citizens of that country.
Dr. Carter moved to Walton County in 2008 from Athens, GA. He intended to only be in Walton County temporarily but, as he became involved in the community he and his wife fell in love with the small-town atmosphere. They have decided to put down permanent roots here and look forward to serving the citizens of this great community.
Dr. Carter is married and has seven beautiful children. In his life outside of dentistry he is active in his church and enjoys hunting, hiking, camping, running, reading, and political discussion.
Dr. Carter is an active member of the American Dental Association and the Georgia Dental Association.